My children love cake, especially my oldest daughter who is just home from her college freshman year. But, none seem to prefer chocolate cake with chocolate icing. All three consistently ask for or choose vanilla cake with buttercream.
Maida has an entire chapter on chocolate cake. Throughout the book, there are other white or vanilla cakes, but all with chocolate icing. This coconut cake had the only white icing I could find. While I knew it wasn't buttercream, I had never made a seven- minute frosting. My other hesitancy was the mounds of coconut covering, which would not be a hit with my children either. So my one alteration was to go sparingly coconut, but use enough to get the idea of what it would be like if I used the huge amount in Maida's recipe.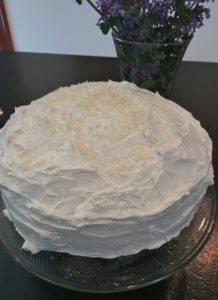 Maida recommends eating this cake the day it is made because the meringue-like icing doesn't refrigerate well. She is absolutely right, but one family certainly can't eat a whole cake in a day so this seems more a company cake.
Once again, I am struck with the ease of cake making and wonder why in the world cake mixes ever came to pass. It seems like our society should have been working on ways to streamline other things rather than pouring more processed convenience foods into the markets. It seems like there could have been help for people to spend more time in the kitchen instead of less, but how that would have happened I do not know. Still I am angry that I grew up in a time and place where this was the way of the food world.
My cake aficionadas finished this one in about 5 days and with no complaints even though there was mention that it wasn't their favorite. I'm positive that if I had brought home a coconut cake from a bakery or supermarket or if they had a choice on a menu, none of my family would have eaten a bit. The power of homemade prevails.