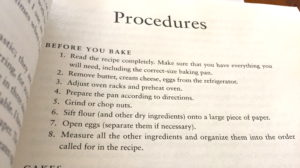 Tomorrow I begin my journey through a Book of Great Desserts. Today I read the recipe. Completely.
The last of this book's introductory section, just before the recipes begin, titled Procedures starts with steps to take "before you bake". It's Maida Heatter's warm, welcoming, wise mise en place.
Mise en place means everything is in place or all ingredients are ready to go and set up in a neat, organized, orderly way to make the cooking process go smoothly and more quickly. In his Kitchen Confidential, Anthony Bourdain equates it to the universe being in order. I feel him on that.
My own mise en place usually takes a lot of time, days even, little bits spread out so I don't get overwhelmed. Maida says make sure you have everything you need including the right sized baking pan. I'm not one who decides to make something then goes to the store to get all that's needed. Grocery shopping pales in comparison to putting a cake in the oven. Also, I live in a small town with limited access to ingredients which is not a problem at all due to internet available anything. But, this means one must plan ahead.
I also seem to get tripped up with the measuring. I'm not sure why. Weighing dry ingredients helps a lot. When I know baking the next day is on my schedule, I like to weigh/measure the night before. This gives me a head start with a better chance to win feeling. After I do dishes and clean up from dinner, I do things like measure out dry ingredients, get out pans, perhaps cut butter into chunks, chop nuts or chocolate.
Following Maida's "before you bake" procedure is more than setting up. It's a way to concentrate my mind, to bring into focus and engage in the baking I'm about to do. Everything has its place. Everything is in place and it makes it all that much easier. Faster. And more enjoyable.
I think I'm ready.