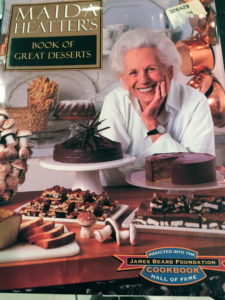 The question poking and prodding my mind of late: How can I become a better baker?
For all my life, at least the part of life I can remember, I've wanted to learn how to cook, especially bake. I've always dreamt of attending culinary school, but the closest I came was an unsuccessful search for Le Cordon Bleu during a long ago trip to Paris. The address I had must have been incorrect because I ended up at a building with a lot of steps and a locked door with pamphlets outside. I think it was their administrative office and not the actual school. It left me feeling ridiculous to even think I could participate and that this was only a dream. A dream, I wanted to come true. My attempts turned to more tangible quests: pouring over Gourmet magazines, loving every page. Escaping to TV cooking shows. The day I discovered the Food Network in its earliest form was one of my happiest finds ever. I loved Gail Gand's Sweet Dreams best of all. I wanted to be her. No matter how many shows watched, articles read, or cookbooks bought, none ever made me a chef or a cook or a baker.
I wonder… if I can't take a class or attend a culinary school program, if I can't be an apprentice or work with a mentor, can training happen in the quiet and solitude of my kitchen? It's a kitchen that's warm, bright, and well equipped, with the comfort of my dogs as assistants.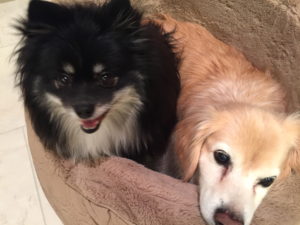 My hypothesis involves Maida Heatter's dessert cookbooks. She published the most detailed books sharing her passion for baking, writing generously in small notes that reveal "a you can do it" attitude and "a cooking is love" philosophy. Can I learn to be a better bake along her side, even only from her books?
During her life Maida Heatter's worked as pastry chef in her restaurant and wrote nine dessert cookbooks. The first, Maida Heatter's Book of Great Desserts, was published in 1974. I thought this book was a good place to begin my training and quest. If I follow meticulously and make every recipe in every chapter and buy the right ingredients and equipment and do not change them up to meet my own tastes, will I learn by her side as if she were here with me in my kitchen?
The book has 264 recipes. I'm going to write here about my successes, challenges, mistakes, inspirations, learned techniques, discovered equipment and most of all tidbits of wisdom from Maida's directions. I hope it is ok for me to call her Maida.
On a side note, today is the first day that I write in this baking journal. I've kept a private online journal for about two years now and I feel nervous about transitioning to a more public writing phase. Having said that, I am happy to think you are here with me on this journey. Thank you so much! It helps me to feel not alone, sort of like I'm in a baking class. Please feel free to write, comment, or bake along with me at anytime. I'll even have a Maida book sent to you if you need one, just let me know!