Flax seeds, a source of omega 3 fatty acids and fiber, instantly transform your kitchen into an herbal apothecary. They contain a high percentage of mucilage, best for helping with dryness. Dry coughs, sore irritated throats, dry skin, gastritis, and constipation are all times when extra flax seeds are beneficial.
But do you think of flax as a plant? I really didn't until I received flax seeds in the herbal garden seed starter set I ordered from Mountain Rose Herbs. They looked identical to what I buy in supermarkets, but never thought of as seeds to plant. I did plant them, though, and they grew into these lovely tall, but delicate stalks with lavender flowers. I still lean toward convenience and used ground flax meal for this cobbler. Truly, though, it is best to grind flax from the seeds just prior to using to maximize their freshness.
4 1/2

cups (500g)

blueberries

1

medium

nectarine, sliced into chunks (150g)

1/2

cup (1 stick)

organic unsalted butter

1

cup (150g)

spelt flour

1

cup (200g)

organic brown sugar

3

tbsp

ground flax seed

1

tsp

baking powder

1/2

tsp

baking soda

1/4

tsp

salt

1/2

tsp

cinnamon

2

tsp

vanilla extract

1

cup

buttermilk
Wash blueberries and lay out on paper towels to dry. Peel nectarine and cut into bite sized chunks.

Preheat oven to 350°F. While oven is preheating, place butter in a 13"x9" baking dish. Put baking dish with butter into oven for about 5 minutes until butter is melted. Remove from baking dish from oven and set aside. Continue to preheat oven.

In medium mixing bowl, combine spelt flour, brown sugar, ground flax seeds, baking powder, baking soda, salt and cinnamon. Whisk together to combine and break up any lumps with your fingers.

Add vanilla and buttermilk. Whisk to combine.

Spoon batter evenly into baking dish on top of melted butter. Do not stir or mix.

Place blueberries on top of batter to completely cover. Place nectarine chunks evenly over blueberries. Do not stir or mix fruit into batter.

Bake uncovered for 45 minutes until crust is golden brown.

Cool 10 minutes. This cobbler is best warm. It can be stored in the refrigerator and warmed in low oven or microwave prior to serving.
*Using organic ingredients whenever possible maximizes goodness. For this cobbler, use organic flour, brown sugar, butter, and fruit if available.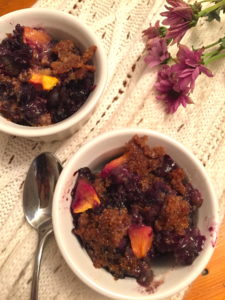 Herb

Apothecary

Baking

Traditional Use