We are deep into fall yet the nettles in my small herb garden bed continue to take over.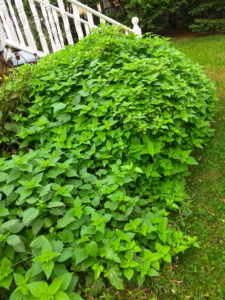 Every few days I put on double garden gloves and snip around taking off the top leave whirls. I know this may stimulate more growth, but the crime of not using an herb like this in its fresh form nags at me.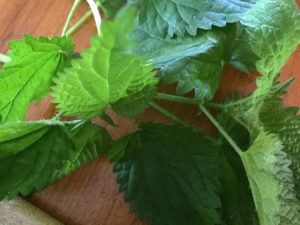 My method to avoid the sting, not totally herbal perfect practice, is as follows: Bring handfuls of nettle leaves, stem and all into the kitchen with my gloves on and put them gently into the sink. Take off gloves and get a big pot ready with about 2 inches of water. Turn on the sink faucet and with tongs, gently turn and rinse the nettle leaves, then with tongs, place into pot, stems and all. Bring to boil on medium high heat, covered. Steam for about 2-3 minutes until deep green, drain and cool. No more sting. Now, with my hands, I remove all the leaves from the stems. These will keep in the fridge for a few days and become a richly valuable mild green ingredient. Chop and mix into risotto, lightly saute with garlic, salt, and pepper, add to soups or stews, or bake with chocolate. Sometimes I think I can feel the minerals sinking into my bloodstream as I eat.
Because some ingredients may be hard to find, links are provided to make buying easier. I may earn a small commission for some of the product links in this recipe. Your purchase will lend support to this website at no further cost to you. Big love and thanks for that.
For nettles

1

large bunch

stinging nettle leaf

leaves can remain on stems

1

cup

water

For cake

1/2

cup

blanched nettle leaves

1 1/4

cup (156.25g)

organic all-purpose flour

1/2

tsp

baking powder

1/2

tsp

baking soda

1/4

tsp

salt

1/3

cup (39g)

unsweetened cacao powder

I used Valrhona dark

1/2

stick (2oz)

organic unsalted butter

3/4

cup

organic granulated sugar

1

tsp

vanilla extract

2

organic eggs

1/3

cup

sour cream

1/2

cup

nettle tea, cooled

reserved water from nettle blanching

1/2

cup

chocolate chips
For nettles
Handle fresh nettles carefully, with tongs or gloved hands.

Place nettles in large pot with lid and approximately 2 inches of water. Bring to boil and blanch for 2-3 minutes. Drain, reserving liquid.

Using a fine strainer and cheesecloth, strain liquid to remove any particles. Measure 1/2 cup and reserve for cake. Drink the rest as a tea and enjoy!

When nettles have cooled, remove leaves from stems, squeeze out excess water and measure 1/2 cup, packed.

Place nettles into food processor with metal blade. Pulse about 10 times, scrape down sides and pulse again until finely chopped.
For cake
Butter a 9x5 inch loaf pan, then line with parchment paper, butter the paper and lightly dust with fine dry bread crumbs, shaking out excess. Set aside

Preheat oven to 350 degrees.

Into small mixing bowl, sift together flour, baking powder, baking soda, salt, and cocoa powder. Set aside.

Place butter in bowl of electric mixer. Beat until soft with beater attachment.

Add sugar and vanilla and beat to combine. Add eggs, one at a time, then sour cream and continue beating to combine.

With mixer set to lowest speed, gradually add sifted dry ingredients in three additions alternating with nettle tea (cooking liquid from nettle blanching).

Remove bowl from mixer and fold in nettles with spatula and then chocolate chips.

Pour batter into prepared loaf pan. Bake for 1 hour, until tester gently inserted into center comes out clean. Cool in pan for 10 minutes, then using parchment paper, lift out of pan and cool completely on wire rack. Cool with parchment paper still on cake to avoid sticking to rack, then remove parchment paper when completely cool. Dust with powdered sugar if desired.
*During cooking and drying, the sting of nettles is deactivated.
**Using organic ingredients whenever possible will make baked goods all the more nourishing. For these muffins use organic flour, organic sugar, organic eggs, organic cocoa powder, organic sour cream if available.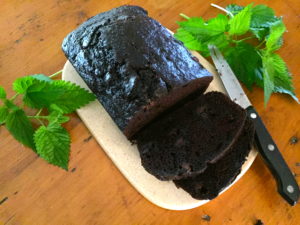 Herb

Apothecary

Baking

Traditional Use