Because some ingredients may be hard to find, links are provided to make buying easier. I may earn a small commission for some of the product links in this recipe. Your purchase will lend support to this website at no further cost to you. Big love and thanks for that.
Turmeric ranks among the most researched herbs. Recently, GreenMedInfo.org posted an article linking the ingestion of turmeric to the positive impact of 600 diseases, practically lifting this traditional spice to a magical scale. Studies frequently focus on just one component of turmeric, curcumin, as the active source for anti-cancer and anti-inflammatory benefits. The big question is whether curcumin truly is quintessential or are other noncurcumin components equally endowed with medicinal potential. Of the 235 chemical compounds identified in turmeric, curcumin makes up just 2-5% of the plant. Multiple chemically diverse noncurcumin compounds also exhibit strong anti-cancer and anti-inflammatory activity. Additionally, some work synergistically with curcumin to increase its absorption.
The point is for maximum benefits keep the whole plant intact, using it as turmeric rather than isolating it into parts such as curcumin. Traditional practice seems to know this. Turmeric has been safely used for centuries as a non-toxic, tolerated food spice. A food dose of turmeric may not be concentrated as a dose from a capsule; however, adding it into daily life whenever possible, even if in small amounts is a win-win. Baking with herbs captures this concept. Eating turmeric in a cake, cookie, bread or sweet roll may not deliver a medicinal dose, but still worthy for ingesting phytochemicals that protect us.
These crescents were inspired by a recipe from Maida Heatter, an amazing dessert recipe writer. Her descriptions and encouraging tips continue to influence my baking making it easier, enjoyable and successful. She writes that she loves baking yeast cakes. The smells, hands-on work, the end product cause me to agree. I added turmeric to her nut crescents and changed the filling a bit. The result is a light yellow soft sweet roll with a chewy brittle like filling. These take some time, but are a perfect weekend project and worth every second.
Sneak in a dose of turmeric anytime of day with a soft, nut-filled crescent. These sweet rolls although a bit time consuming are not difficult, even fun. If the filling oozes out a bit while baking, just break it off as the crescents cool and save for a yummy extra treat.
Servings

Prep Time

48

crescents

2

hours
Servings

Prep Time

48

crescents

2

hours
Print

Sneak in a dose of turmeric anytime of day with a soft, nut-filled crescent. These sweet rolls although a bit time consuming are not difficult, even fun. If the filling oozes out a bit while baking, just break it off as the crescents cool and save for a yummy extra treat.

Servings

Prep Time

48

crescents

2

hours

Servings

Prep Time

48

crescents

2

hours
For dough

3

organic eggs

1/2

cup

organic sour cream

1/4

tsp

turmeric powder

2

sticks

organic unsalted butter, cold and firm

8 oz

1/2

cup

organic granulated sugar

5

cups

organic all-purpose flour, sifted

plus 2 Tablespoons

3/4

tsp

salt

1/4

cup

turmeric tea

see below

2

envelopes

active dry yeast

1

egg white

for brushing crescents before baking

For filling

5

oz

pistachio nuts, shelled

5 oz

2 1/2

oz

dried currants

1/2 cup

1

cup

granulated sugar

6

tbsp

organic unsalted butter, melted

3/4 stick

1/4

cup

organic heavy cream

1

tsp

turmeric powder

1

tsp

vanilla extract

For turmeric tea

2

tsp

turmeric powder

8

oz

water
For turmeric tea
Combine 2 teaspoons dried turmeric powder and 8 ounces of hot water in a French coffee press or other type of vessel to allow for infusing. Steep for 45 minutes, strain and cool until just warm.
For dough
In small bowl, whisk eggs until lightly beaten. Add sour cream and ¼ teaspoon turmeric and whisk until blended. Set aside.

Cut butter into small chunks, approximately ½ inch squares and keep cold in refrigerator until ready to use. Reserve ½ teaspoon sugar from ½ cup measure.

Sift remaining sugar, flour, and salt into a large mixing bowl. Transfer half of this mixture to the bowl of a food processor. Add half of the cold butter chunks and process pulsing for 10-15 quick pulses until resembles coarse crumbs. Transfer to a large bowl and process the remaining flour-sugar mixture and cold butter chunks in the same way. Combine with first processed batch. Set aside.

Warm an 8 ounce glass measuring cup by filling with hot water and allowing to stand for a few minutes. Pour out hot water and measure ¼ cup of warm turmeric tea. Stir in reserved ½ teaspoon sugar. Sprinkle yeast on top, then stir with a knife until yeast dissolves. Let stand until mixture rises to nearly the top of the measuring cup.

Add yeast mixture and egg mixture to flour-butter mixture. Mix thoroughly with wooden spoon.

Turn dough out into a clean work surface to knead. The dough will be sticky so use a dough scraper or large metal spatula to turn it over pushing down on it with the palm of your hand. I knead my dough for a bit first right in the bowl until it comes together. Continue kneading for about 5 minutes. The dough will be smooth, but still sticky. Cut a piece of wax paper about 20 inches long and lay flat on the counter. Transfer the dough to one end and fold the other side of the wax paper over the top of the dough. With your hands flatten the covered dough slightly into a round disc that measures 8 inches in diameter. Slide dough with was paper into a Ziploc bag and refrigerate overnight.
For filling
Place shelled pistachio nuts in food processor and process until finely chopped. In medium bowl combine chopped pistachios, currants, sugar and turmeric. Stir in melted butter. Mix in cream and vanilla extract. Set aside until ready to roll crescents.
For shaping crescents
When ready to shape crescents, lightly butter baking sheets. Twelve crescents will fit on an average sized baking sheet, so this recipe will require four. I only have two cookie sheets, so I made these in two batches.

Remove dough from plastic bag and place it still wrapped in wax paper on a cutting board. Uncover and while still cold, cut dough disc into 8 equal wedges, as if you were cutting a pie. Work with one piece at a time, wrap others in wax paper and keep refrigerated.

To roll one dough wedge, flour your hands and a rolling pin. Press dough wedge into a ball, place on floured work surface and flatten a bit. Roll into a 9-inch round. With long, sharp knife cut into 6 pie shaped wedges.

Place 1 rounded teaspoon of filling at the wide end of each wedge. Roll up from wide end to point to enclose the filling. Place each roll onto the buttered baking sheet point down. Turn ends in to form a crescent shape. Fill each baking sheet with 12 crescents space apart.

Continue to work with each dough wedge in the same way until all crescents are formed.

Cover rolled crescents loosely with wax paper or a cotton napkin and allow to rise at room temperature for 2 hours.

Just prior to baking, preheat oven to 350 degrees Fahrenheit. Beat one egg white until foamy. Gently brush tops of crescents with the white using your fingers or a soft brush.

Bake for 15 minutes until browned. Check on crescents 10 minutes into baking to make sure they are browning evenly and shift baking sheets from front to back if needed.

A bit of the filling may ooze out during baking. As crescents begin to cool, break extra filling off it is too much and does not look right. (keep the filling for a candy-like extra treat)

Transfer the crescents with a metal spatula to wire racks for cooling.
*Using organic ingredients whenever possible will make your baked goods all the more nourishing. For these crescents, use organic flour, sugar, eggs, butter, sour cream, and nuts if available.
**This recipe is prepared over two days. The first day prepare the dough and refrigerate overnight. the second day make filling, shape crescents and bake.
***Some of the crescents may not look perfect but they taste just as good.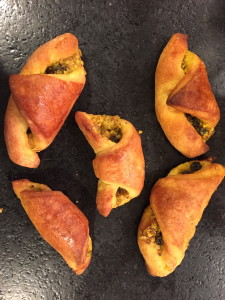 Herb

Apothecary

Baking

Traditional Use