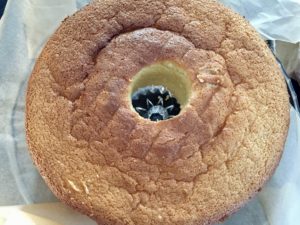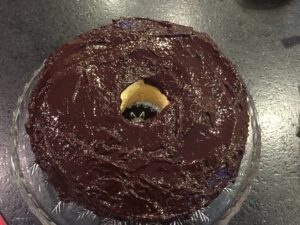 It surprised me that this recipe titled Sponge Cake was lemon flavored and chocolate iced.
I love the Splendid Table podcast. I recently listened to an episode segment that discussed Boston Cream Pie. The America's Test Kitchen chef interviewed revealed that the challenge to make a really good one is in the parts of the cake. Boston Cream Pie actually is layers of sponge cake filled with pastry cream then topped with a chocolate glaze.
I think Maida's recipe for Sponge Cake is Boston Cream Pie minus pastry cream but plus lemon juice.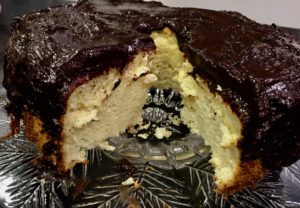 During the Splendid Table interview, the discussion centered on the difficulty of making a good sponge cake and they offered techniques for success. Maida seems to have mastered this cake without these tricks. I'm not sure mine was perfect, but it had the airy, light quality of a sponge cake. As always, she gives detailed instructions that teach as well as direct. I'm not so sure about the chocolate icing, though. I definitely had shine, but couldn't get a smoothness. This didn't seem to affect the taste, though.
I am not a huge fan of sponge cake for eating; although their lightness in comparison to velvety butter cakes gives them a place all their own. While Boston Cream Pie is not included in this book, I imagine Maida has a recipe somewhere to compete with the challenges and continue the chocolate covered sponge cake saga.