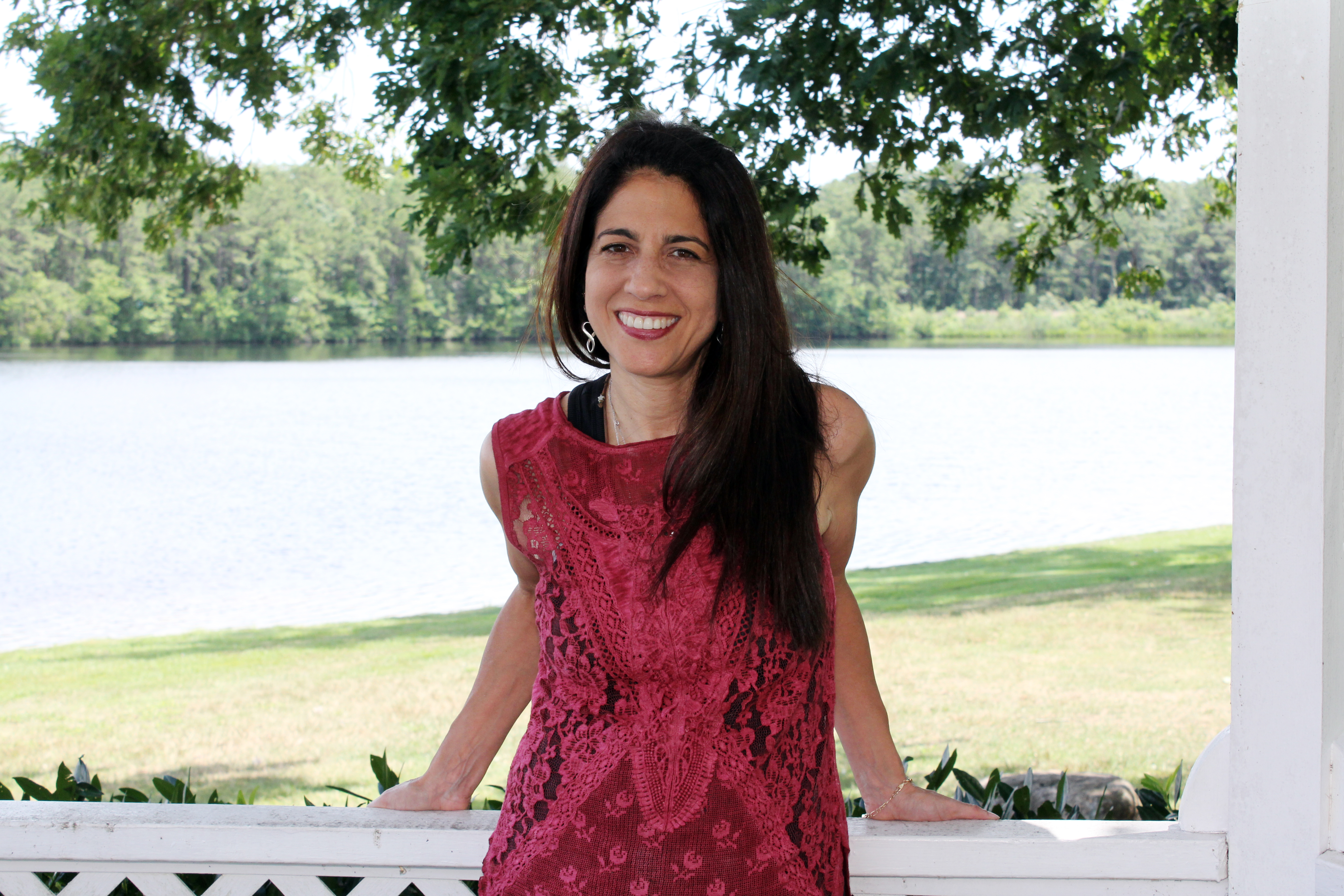 Herbs saved me. I believe they can do the same for you.
I am Dina Ranade. I created The Herbal Bake Shoppe as a way to bring herbalism into the kitchen. Baking with herbs is a lovely place to concentrate. I am a Nutritionist (Registered Dietitian) and Herbalist, Registered with the American Herbalist Guild. My intention is to offer sumptuous, nutritious recipes that incorporate the healing benefits of herbs. You can think of it as a kitchen medicine cabinet.
More About Me
Several years ago I moved from South Florida to the Jersey Shore with my three pre-teen children (now all teenagers/young adults). I left much that was important behind me, an established career as a clinical nutritionist, a newly built home, friends and contacts, and my now ex-husband. A hard time. I was broken hearted and worried about my children adjusting to a new home and split-up family, but I was hopeful I could find a new beginning.
I had become disillusioned with my work as a Registered Dietitian. I felt discouraged about my own eating as well as what I offered the people I was supposedly helping. I wanted to learn a new approach, expand my education in alternative methods and herbs fell into my lap.
In my quest for a better way to be a nutritionist and as I began to learn more about herbs, I thought about mixing the two – herbs with yummy foods, like fudge and cupcakes and muffins and cookies. What if herbs that offer amazing benefits could truly be food as medicine in a delicious way? I have been experimenting with this notion and developing methods to bake with herbs that differ from normal ingredients like adding a teaspoon of cinnamon to oatmeal cookies. It has been a private thing, which is my nature; I am more shy and reserved than is sometimes useful. But, Julia Child said that in cooking you have to have a "what the hell" attitude, so with that in mind I offer my thoughts and concoctions here in The Herbal Bake Shoppe.
I started by saying that herbs saved me. Herbalists often speak of their allied relationships with plants. This is not what I'm talking about, though. I'm referring to my survival through the hardest things in my life. The study of herbs gives me something to do as I struggle to find my place in a new situation. They replenish my energy and contribute to physically feeling stronger. As I battle the worst anxiety I've ever felt, they calm me. They help improve my digestion. As my body adjusts to moving back to a winter climate, they warm me. And in the rebirth of spring, I realize that gardening and looking at plants provides endless observation and wonder, and sometimes I actually do know them as my teachers and allies.
When I look for my place in the field of nutrition and herbalism, I imagine myself standing with one foot on a small boat that is tied to a dock with my other foot actually on the dock and I am trying to maintain my balance. The dock is solid ground and the stable foot is symbolic of my science-based experience as a Registered Dietitian/Nutritionist. The boat is swaying back and forth in the waves of the water and feels much more uncertain to my footing. The boat is herbalism and my draw to the traditional approach, the folk approach, and ancient wisdom. With a deep-rooted respect for the capability of herbs as well as a genuine love of plants and nature, I wonder if I should take my foot off the dock and jump into the boat or if it is possible to continue to stand with one foot in both worlds. I think maybe so and that is my purpose here, to mix nutrition and herbs and merge the benefits of both into a way of gaining increased self-sufficiency and supporting a healthy life. There is no sustainability if we cannot feed ourselves and do so in a way that gives us vitality and health. But we also deserve to like what we are eating.
Please share with me any ideas, stories, feedback, opinions, thoughts, recipes or ways that you mix nutrition and herbs into your lives. Together we are an army. I am excited to be on your side.
A Few Other Random Facts
I live on Long Beach Island, NJ with my 3 children, Evonna, Indya, and Devan. Our town is Beach Haven which has a year round population of about 1200 people total, but swells with families on vacation in the summertime. It is pretty quiet in the winter, but perfect for contemplative walks on the beach with my two dogs, Ruckus and Maci.
I am originally from Pittsburgh, PA and still an avid Steelers, Pirates, and Penguins fan. I cry tears of joy when they win.
My dogs are my ultimate companions and are ever present in the kitchen with me watching as I bake and hoping for a little taste.
I have always dreamed of being a pastry chef, going to cooking school in Paris, and I truly do love to cook although it can be a chore when the stress of life gets in the way.
I am fascinated to read old herbal books describing remedies used before pharmaceutical medicines existed.
My vision is to open an herbal bakery and coffee shop.