Ever wonder why summer produces so much zucchini? If you grow a vegetable garden or, like me, receive a weekly CSA (community supported agriculture) box from a local farm, it seems like a logical question when this vegetable just keeps emerging. My curiosity lead me to explore and here's what I found:
Zucchini grows in any type of soil, needs no extra attention, and easily pollinates. One plant will produce lots of flowers, which translates to lots of fruit. It also will keep producing more and more as the zucchini is harvested.
Inevitably, if you read food literature, you will see an article giving ideas for what to do with abundant zucchini. This summer, I tested a few new recipes. I listened tp an interview on The Splendid Table podcast with Skye Gyngell, a chef who just released a cookbook titled Spring. She described her Slow-cooked Zucchini with Tarragon as being her restaurant staff's favorite. Look for the recipe on the Splendid Table's website and if you don't already, try listening to this podcast, I think you'll love it. I also made a few different types of zucchini pancakes or fritters.
I try to love zucchini, but my truth can not be denied. It leaves me feeling meh. However, baking converts zucchini to my favorite vegetable. This zucchini loaf inspired by my self-proclaimed baking mentor, Maida Heatter from Maida Heatter's Cakes actually inspired me to want more zucchini.
A best friend visiting told me she felt addicted to this zucchini bread like a drug. I'm not sure if that's good, but I understand and I also would like to believe it's because of my secret basil addition.
12-15

leaves

fresh basil

depending on size of leaves, use 12 if large, 15 if medium

1

cup

organic olive oil

3

cup (342g)

organic all-purpose flour, sifted

1/2

teaspoon

baking powder

1

teaspoon

baking soda

1

teaspoon

salt

3

teaspoon

cinnamon

1

pound

zucchini (1-2 medium to large), shredded

2 packed cups shredded zucchini, do not drain

2

organic eggs

1 1/2

cup (300g)

organic granulated sugar

1/2

cup (100g)

organic light brown sugar

1

teaspoon

vanilla extract

4

ounces (1 cup)

walnuts, broken to medium pieces
For basil infused oil
Making sure basil leaves are thoroughly dry, coarsely chop and combine in small saucepan with olive oil.

Heat oil and basil on medium heat until gentle simmer. Simmer for 2 minutes. Remove from heat, cover and allow to sit for 25 minutes.

Strain oil into a 1 cup glass measuring cup. Add additional olive oil if needed to measure 1 cup. Reserve basil for another use such as adding to sauces or soups.
For zucchini loaf
Adjust an oven rack to one-third up from bottom. Preheat oven to 350°F. Prepare two 9x5x3 inch loaf pans by greasing with butter. Dust pans all over with fine, dry bread crumbs and tap out excess.

In medium bowl, sift together flour, baking soda, baking powder, salt and cinnamon. Set aside.

In a large mixing bowl, beat eggs just to mix.

Mix in granulated and brown sugars. Then mix in basil infused olive oil and vanilla extract.

Add sifted dry ingredients and stir gently to blend into a thick batter.

Add zucchini with any accumulated liquid and blend with a wooden spoon. Stir in walnuts.

Pour batter into prepared loaf pans and smooth tops. Bake for 1 hour and 30 minutes until toothpick inserted in center comes out clean.

Cool for 15 minutes in pan, then turn out onto wire rack and cool completely. Slice when completely cool using a serrated knife.
**Using organic ingredients whenever possible will make baked goods all the more nourishing. For this zucchini loaf use organic flour, sugars, eggs, olive oil and zucchini if available.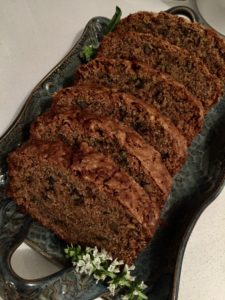 Herb

Apothecary

Baking

Special Diet

Traditional Use