1/2

cup (100g)

organic granulated sugar

1 1/2

cup (240g)

white rice flour

1/3

cup (40g)

organic cornmeal

2

tsp

baking powder

1/2

tsp

baking soda

1/4

tsp

xantham gum

1/2

tsp

kosher salt

1

tsp

turmeric

1

tsp

ginger

1/2

tsp

cinnamon

1/4

tsp

cloves

3/4

cup (1 1/2 sticks)

organic unsalted butter, frozen

1

cup

fresh cranberries, cut in half

1

egg

1/2

cup

sweet potatoes, mashed

1/4

cup

buttermilk

plus additional for coating

1

tbsp

turbinado or granulated sugar for sprinkling on scones
To bake acorn squash
Preheat oven to 375°F. Using a sharp, heavy knife cut squash in half at the middle (not at the stem ends). Scoop out and discard seeds or save them to plant or roast. Place squash face down in a shallow baking dish with about ¼ inch water. Cover with aluminum foil.

Bake for approximately 45 minutes until soft. Cool completely, then scoop out flesh and mash. Set aside ½ cup for scones. Remainder can be refrigerated and used for a dinner side dish mixed with butter or olive oil and a little salt and pepper.
For scones
Line a baking sheet with parchment paper.

In large mixing bowl, whisk together sugar, white rice flour, cornmeal, baking powder, baking soda, xanthan gum, salt, turmeric, ginger, cinnamon, and cloves.

Using the large holes of a hand grater, grate frozen sticks of butter into a separate bowl, adding the slivers of butter to the dry ingredients as you go. Each time butter is added to dry, toss lightly to coat it. Continue until all butter is grated and added into dry ingredients.

Add sliced cranberries to butter and flour mixture and toss lightly to combine.

In medium bowl, beat egg lightly. Add acorn squash puree and buttermilk and mix together until smooth. Add to other butter, flour and cranberry mixture and blend together until forms a thick, moist batter.

Turn out batter onto a lightly floured surface. Knead a bit if needed to smooth it out and press into a flat disc that is about 1½ inches thick.

With sharp knife, cut as a pie into 12 wedges. Pieces do not have to be exactly even. Gently lift wedges and place on parchment lined baking sheet. Cover and refrigerate until firm, at least 2 hours, but preferably overnight. If very short on time, these can be chilled in the freezer for 30 minutes.

When ready to bake, preheat oven to 400°F.

Remove scones from refrigerator and brush with buttermilk then sprinkle with turbinado sugar.

Bake until golden, 25-30 minutes. Cool while still on baking sheet.
** Using organic ingredients whenever possible will make your baked goods all the more nourishing. For these scones, use organic butter, eggs, sugar, flour, acorn squash, and cranberries if available.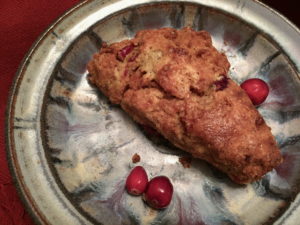 Herb

Apothecary

Baking

Special Diet

Traditional Use