I think it's hard to bake. It takes time, time that I don't always have especially when there are piles of laundry to do, dogs to walk, a house to clean, writing and researching to do and it is enough that I feed my children breakfast lunch and dinner. And when I do bake, my results never look like the perfect pictures I see on Instagram and all the food blogs I follow. Sometimes I get frustrated, despite the time and money spent on ingredients, I throw it all in the garbage.
But I love to bake. I am not sure why. It may be the challenge, perhaps the result will be that success I have been waiting for, the breakthrough that makes me a talented baker. It may be the alchemy, for how can the mixing of simple ingredients produce such joy? Sometimes it just feels so good to work through all of the steps, therapeutic almost. And it's interesting because people like to know what you are baking. I would love the day to come when it's easier for me. Someone told me recently the key to enticing people to bake with herbs is to make it easy. So, there is my goal for myself and for others.
These bonbons are not actually baking, but they're easy. The most labor intense part is rolling the dough-like batter into balls. But once finished, you'll have a large supply of instant snacks that keep for a long time in the fridge.
For red clover herb blend

1/4

cup

red clover buds, dried

1/4

cup

oat straw, dried

1/2

cup

dandelion leaf, dried

1/2

cup

nettle leaf, dried

For bonbons

2

cup

organic tahini

sesame seed butter

1

cup

organic almond butter

½

cup

organic raw honey

5

tbsp

red clover herb blend, powdered

2 1/2

tbsp

ground flax seed

1/2

cup

cocoa powder

1

cup

granola, ground

for coating bonbons
For red clover herbal blend
Measure and mix herbs together in a small bowl.

Using coffee grinder, blend mixture for about 10 seconds until fine powder.

Let stand for about 2 minutes to allow powder to settle before uncovering.
For bonbons
Combine tahini, almond butter, and honey in large bowl and mix to form a paste.

Add flax seed, cocoa powder, and powdered herbs and mix to combine. Add more cocoa if needed to thicken and form soft dough.

Chill in refrigerator at least 30 minutes prior to rolling and coating.

Whirl granola in a coffee grinder until coarsely ground, not a fine powder like herb blend but with no large pieces remaining.

Roll into small balls about 1 tablespoon in size. May also roll smaller if desired. Spread ground granola on flat plate and roll bonbons to coat.

Store in covered container, refrigerated these will last for about 2 weeks.
* Any combination of dried herbs can be powdered and used in these bonbons if the listed herbs are not available. These are especially delicious made with only red clover buds. Just powder herbs and add in proper amount to other ingredients.
* Using organic ingredients will make these bonbons even more nourishing. If available, use organic tahini, almond butter, honey, cocoa powder, and herbs.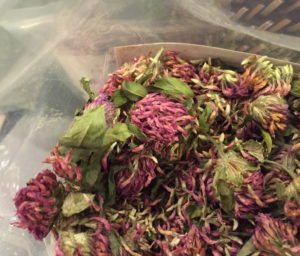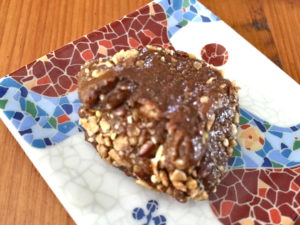 Herb

Apothecary

Baking

Special Diet

Traditional Use